SING INDIA WITH JERRY AMALDEV
.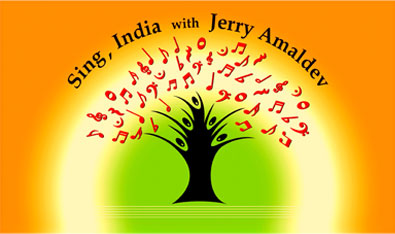 A group of music lovers gathered together in July 2010 to form the Choral group Sing, India with Jerry Amaldev.
These dedicated singers, honed during months of relentless practice in choral singing, render songs spanning different cultures, languages and ages. Frugally accompanied by instruments in the best choral tradition, in April 2011, they sang Mozart's classical Ave Verum, a Negro Spiritual, a 4-part Philippino song, an expression-laden church hymn and a vocal-version of an Italian operatic overture. These were interspersed with nostalgic Malayalam songs such as "Aayiram Kannumaay'.
"A veritable achievement for Malayalees!" quipped Mariam Mary, a student of voice from London.
"Now I know why you were reaching home late after office hours," winked Mr. Nair at his wife, Padmasree, an alto.
"You have done a creditable job, friends," smiled Jerry Amaldev, the music director - conductor.
"We have a long way to go yet."
And we welcome fresh talents to join our fold.
We invite you to come and try us out. We meet on Saturdays from 6 pm to 8 pm and on Sundays from 2.15 pm to 5.15 pm at 2nd floor, "MEROLAND", I . S. Press road,Ernakulam, 682 018.
Please get in touch with Mr. Joe Gabriel (mobile No.9447302642) or Mrs. Elsaba Kurian (Mobile No.9446358688) to pursue this matter.
16 CHRISTMAS CAROLS IN TWIN CD - COMBO PACK (6 English traditional ones and 10 Malayalam compositions of Shri. Jerry Amaldev) READY FOR SALE.